NYSUT mourns Farmingdale educators killed in tragic bus crash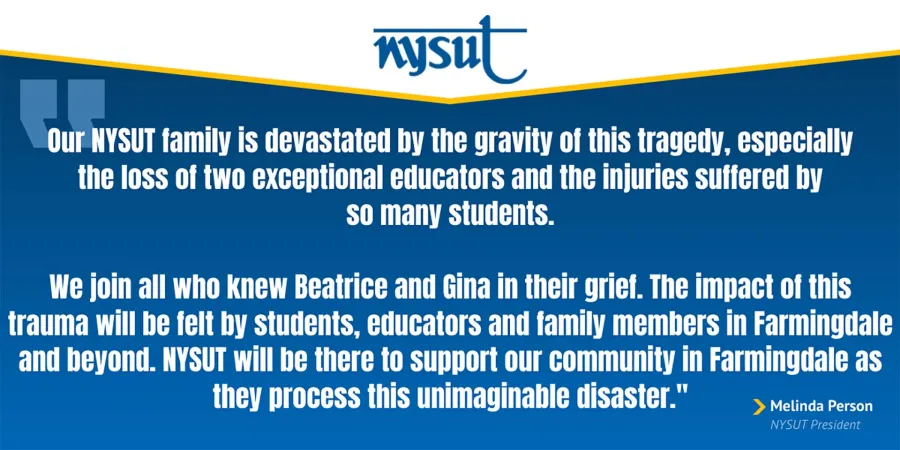 NYSUT President Melinda J. Person issued the following statement in response to Thursday's Orange County bus crash. The bus was carrying students and educators from the Farmingdale school district. Several students were severely injured, and two educators and NYSUT members were killed: band director Gina Pellettiere, and retiree Beatrice Ferrari, who taught for 26 years and returned as a mentor to students on this trip.
"Our NYSUT family is devastated by the gravity of this tragedy, especially the loss of two exceptional educators and the injuries suffered by so many students.

Beatrice taught and inspired thousands of students over the course of her career and mentored dozens of her colleagues. Even in retirement, she continued to serve her community, and was named as a Distinguished Woman in Education from the Town of Oyster Bay.

Gina was beloved by her students as she fostered their creativity, confidence and love of music. Under her careful instruction and with her nurturing, Gina's ensembles achieved the highest honors, drawing recognition from their town and the music education community.

We join all who knew Beatrice and Gina in their grief. The impact of this trauma will be felt by students, educators and family members in Farmingdale and beyond. NYSUT will be there to support our community in Farmingdale as they process this unimaginable disaster."
New York State United Teachers is a statewide union with nearly 700,000 members in education, human services and health care. NYSUT is affiliated with the American Federation of Teachers, the National Education Association and the AFL-CIO.